Boudoir
Boudoir photographs are usually taken for a loved one either of the guy or girl who is looking to surprise thier significant other with something sensual and sexual that only they will share with each other or a very select few others. It is an intimate image they are looking to capture and is usually set in a bedroom type setting (hence the Boudoir name). Most of the time the person getting the images taken would like for them to be done by a photographer of the same sex, as they feel more comfortable being in less clothing with them.
Erotic Art
Erotic Art is something a little different and can be taken in any setting. The photos, paintings or drawings can be nude, implied nude, topless, in lingerie, clothed fully in a sexy pose doesn't matter. The main point of erotic art is to invoke an erotic response to the image. Erotic Art can be used anywhere, in the house, business sites and offices, calendars, and various other media. The main difference between Boudoir and Erotic Art is the final use of the images.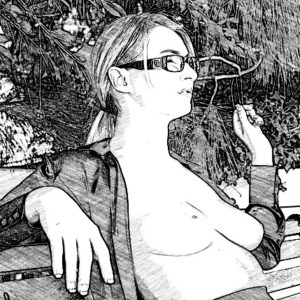 Abstract
Abstract Erotic Art is sought after for the ability to show off the artwork in public without the stigma of other peoples opinions on the subject.
Designed From Erotic Photos
All of the erotic digital art Beach Breeze Studios produces are created from Erotic Art Photographs we have taken of various models. Some of the models wanted the photos for themselves, some wanted the artwork.
Original Vs. Abstract
About 75% of our customers choose the option of having the original images, or art that is recognizable. The rest like the abstract nature of their images to hide their identity, but still have their images shown in their home or even in their office space.